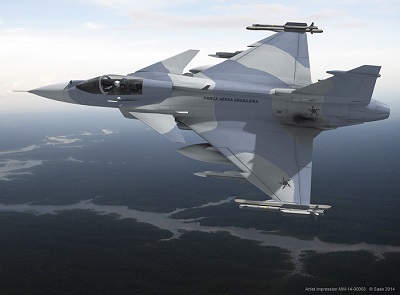 A highly positioned source has confirmed that the Brazilian Air Force will buy a total of 108 Gripen fighters from Swedish Saab. According to the aviation magazine Flightglobal the batches will be delivered in three rounds.
Brazil signed the contract with Saab to buy Gripen just before President Dilma Rousseff was reelected in mid October. Just about a month later the source claims that 36 fighters was only an initial order. The Brazilian Air Force is in need of renewal and everything indicates that it will be partly Swedish.
The contract requires that the vast part of the fighters will be produced in Brazil. Therefore an extended deal will accordingly result in more work for the people in the country. It will also lead to more jobs in Sweden as well as a lowered production cost to the country itself which has already decided to buy Gripen for its own Defense.
At this point there are several exchange programs between universities and organisations in Brazil and Sweden. This tendency will increase even more if the rumours are right.